ION CHANGER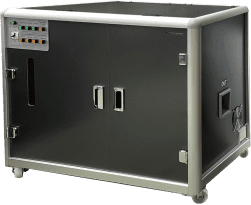 Ion Exchange Method
Hypochlorous Acid Water
Generating MachineION CHANGER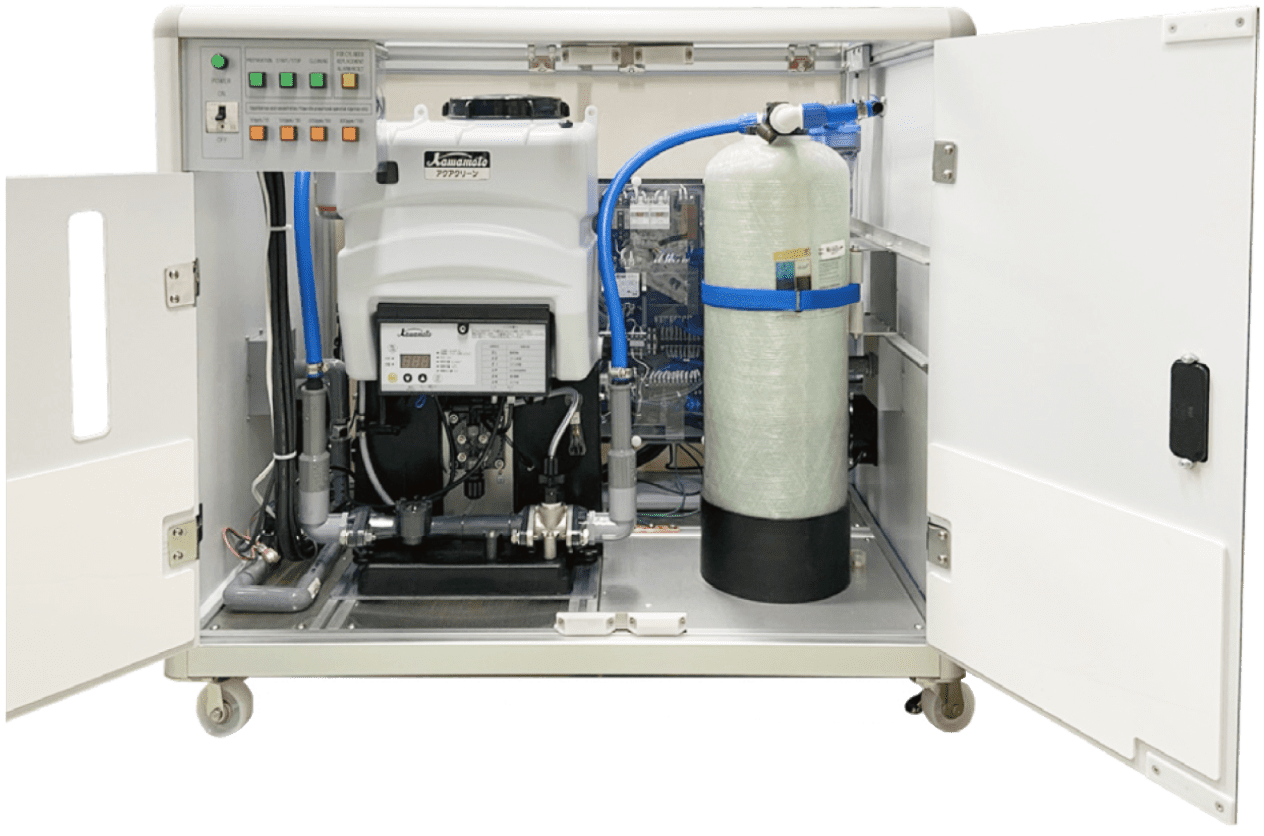 For those who want to use safe and secure Hypochlorous Acid Water with high purity and concentration. The "Ion Changer" is now available!
High Purity
​Ion exchange method removes metal ions such as calcium from the water during production. This allows us to produce water containing almost only hypochlorous acid.
High Concentration
In case of using diluted water of 12% sodium hypochlorite as a raw material, it is possible to produce a high concentration of 300ppm as maximum.
Safe and Secure
Hypochlorous acid water is made acidic by ion-exchange reaction, so it does not use any materials or deleterious substances that need to be controlled.​
Hypochlorous acid water is
a disinfectant that
originated in Japan

Hypochlorous acid water is
an acidic aqueous solution consisting mainly of hypochlorous acid (HCLO), ​
& once a certain concentration and pH are met, its oxidizing power is effective in sterilization and deodorization.
Specifically, hypochlorous acid water is effective against viruses and spores, which are difficult to inactive with the typical disinfectant, alcohol.
In addition, acidic hypochlorous acid water is known to be 80 times more effective than sodium hypochlorite (the chlorine component of bleach and tap water).

Disinfection Spectrum
Hypochlorous acid water is Disinfectant originated in Japan.
**HOCL is generally produced by white blood cells to fight infection.
Compare with Alcohol
Produce Cost & Skin Affection : Lower
Sterilization Time : Faster
Versatility of Use : Higher
Hypochlorous Acid Water 200ppm
pH5.0 ~ 6.9(lon Exchange Method)
spore-Foaming Bacteria: • Bacillus subtilis • Bacillus
cereus · Geobacillus stearothermophilus
Sodium Hypochlorite Solution
【200ppm(0.02%)pH9〜】
Viruses: • Noro(=Feline calicivirus) • Influenza(filamentous fungi) • Candida albicans etc.
alcohol(ethanol)

General Bacteria :

Staphylococcus aureus · Escherichia coli • Lactic acid bacteria etc.

Food Poisoning Bacteria :

Salmonella enterica • Pseudomonas aeruginosa • Serrattia · Campylobacter
Vibrio parahaemolyticus • Listeria monocytogenes · Yersinia enterocolitica etc.

Pathogenic Bacteris :

Escherichia coil 0157 • Vibrio cholerae · Shigella etc.

Fungi:

Mold(Aspergillus) etc.
The above figure shows the spectrum of sanitizers in general.
We do not guarantee the effectiveness of this product against any specific bacteria or virus.
NEW!
Anti-virus Effect Test on
(SARS -CoV-2)by University of MIYAZAKI on July,2020
25ppm HOCL water inactivates 97.2% of Virus, 50ppm inactivates 99.9% of SARS-CoV-2
Anti-virus Effect Test on SARS-CoV-2
This test revealed that 25ppm of Hypochlorous Acid Water (lon Exchange Method) inactivates the virus.
+ indicates a bactericidal reaction.
Positive & Negative control experiments ware conducted.
TCID50 : Refers to the concentration of virus that is infectious to 50% cultivation.
Test was performed by Department of Veterinary Pathology, Faculty of Agriculture University of Miyazaki on July, 2020.

Anti-virus Effect Test on SARS-CoV-2
by University of MIYAZAKI
Effect on SARS-CoV-2 for 1-minute,2-minute,
and 10-minute actions
| Virus titer 250 TCID50 | 1min. | 2min. | 10min. |
| --- | --- | --- | --- |
| 100ppm | + | + | + |
| 50ppm | + | + | + |
| 25ppm | + | + | + |
| 12.5ppm | ± | ± | + |
| 6.2ppm | − | − | − |
| 3.1ppm | − | − | − |
| 1.5ppm | − | − | − |
| Positive control | − | − | − |
No CPE was found in the positive control.
CPE: A morphological change seen in cultured cells infected with a virus.
| 5,000 TCID50 | 1min. | 2min. | 10min. |
| --- | --- | --- | --- |
| 100ppm | + | + | + |
| 50ppm | + | + | + |
| 25ppm | + | + | + |
| 12.5ppm | + | + | + |
| 6.2ppm | + | + | + |
| 3.1ppm | + | + | + |
| 1.5ppm | + | + | + |
| Positive control | − | − | − |

The Ion Exchange Method
There are several ways to produce acidic water containing active chlorine components, but "Ion Changer" is a machine that uses the ion exchange method.
The raw materials for the ion exchange method are water and sodium hypochlorite.
As it is, the solution is alkaline just like standard bleach, but the ion exchange process changes it from alkaline to acidic.
The ion exchange method can produce pure hypochlorous acid without using additives by this process, and it can adjust the concentration as well.
Other methods include the electrolysis method and the mixed solution method.
The electrolysis is a method in which salt is added to water and electrolyzed.
This method is widely used, but it has the disadvantages that high concentrations cannot be produced, salt remains in the water, and hypochlorous acid decomposes easily.
The mixed solution method can produce high concentrations, but it may require the deleterious chemicals such as hydrochloric acid to make the hypochlorous acid water acidic.
Sodium Hypochlorite​
Solution​
Hypochlorous Acid Water​
ION EXCHANGE
ELECTROLYSIS (Using salt electrolysis)​
MIXED SOLUTION​
(Using hydrochloric acid)​
Slightly Alkaline
Slightly Acidic​
pH
8.5-10.5
5.5-6.5
7.6-8.5
5.0-6.5
Around 6.5
Safety​
(In Use)​
Low​
Extremely High
Moderate
High
Low
Degerming​
Weak
Extremely Strong
Moderate​
(No rapid-acting)
Strong​
(Dirty Surface drops effects)
Extremely Strong​
Deodorizing
Weak​
(Strong Chlorine Odor)
Extremely High
Moderate
High
High
Shelf Life​
Short​
Long​
Short​
Short​
Moderate
Chlorine
Concentration
Range
No Data​
5ppm-12,000ppm
10-100ppm
10-100ppm
50-400ppm
By-product of
Manufacture
None​
Extremely Little​
Generate​
Nacl (Salt)
Generate​
Nacl (Salt)
Generate
CL- ion
Hypochlorous acid water is used in various situations.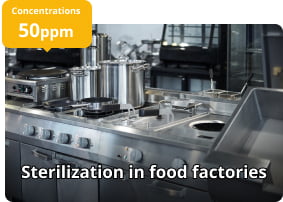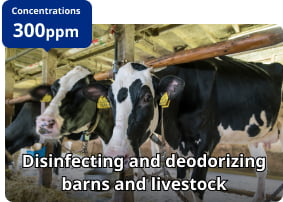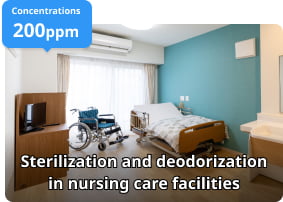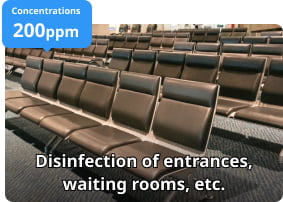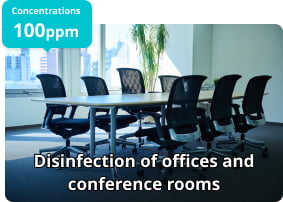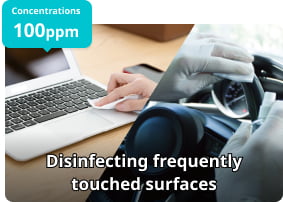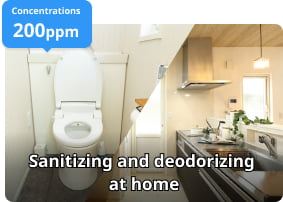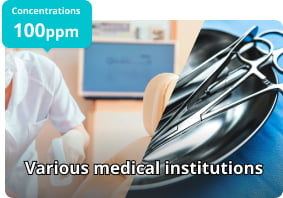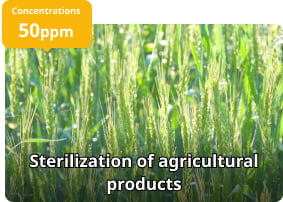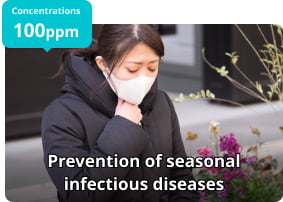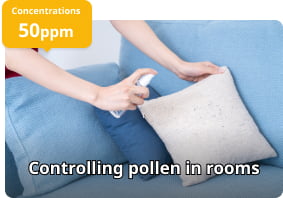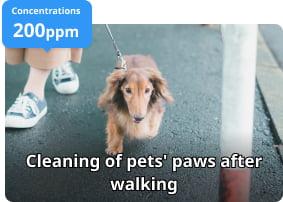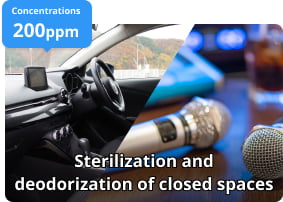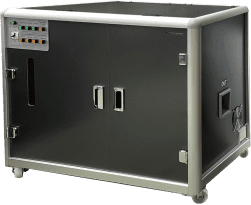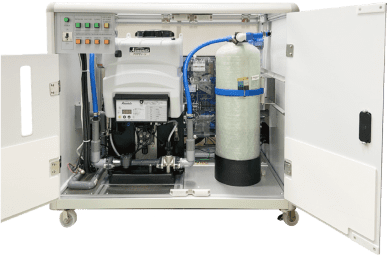 Give it a try!
The "Ion Changer" is ready to use when you fill it with 12% sodium hypochlorite, connect the water intake with a hose, and plug it into a 100V outlet. It is recommended for those who are new to using hypochlorous acid water, and also for those who have already been using a generating machine but have concerns about purity, concentration, and safety.

Visit our office to see a demonstration of our equipment.
You can take the generated hypochlorous acid water home with you.
CONTACT US
Specification
Indoor Operation

Produced water:

Effective chlorine concentration 50〜300ppm ( Settable ) pH4.5~6.5

Connection:

Hose connection for drinking water level

Power supply:

AC100V

Power:

12W

Dimensions:

W100×D65×H90(cm)

Production volume:

600L/hour

Weight:

(When delivered) Approx. 80 kg
(In operation) Approx. 120 kg

※For operation, general household water pressure (0.2MPa or higher) is required.
Please note that product specifications are subject to change without notice.
Dimensional Drawing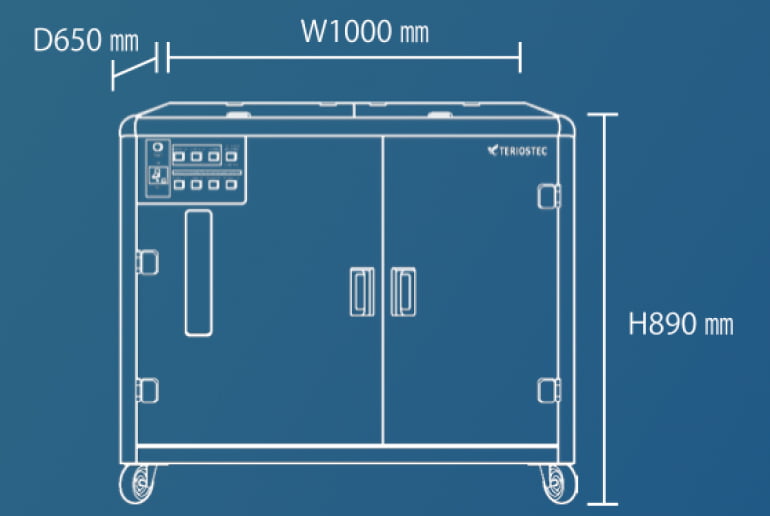 Halal Certification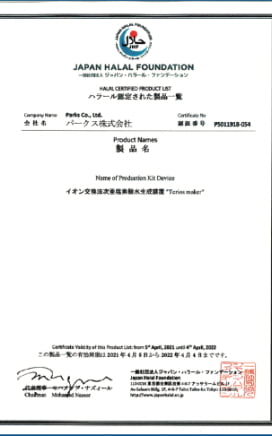 Halal Certification is a guarantee that the product or service in question conforms to the provisions of lslamic law and can be eaten, used, or utilized by Muslims with confidence.
Halal is an Arabic word meaning "what is permissible"